Establishing Burkina Faso's Next Gold District
Sarama Resources (TSX-V: SWA) is a West African gold explorer and developer focused on establishing a new mining district in Burkina Faso.
Sarama owns a 100% interest in the Sanutura Project, located approximately 350km southwest of Ouagadougou. The project area covers approximately 1,454km² of prospective greenstone terrane, hosts a growing resource including two major gold deposits and is Sarama's lead project which is progressing towards development.
The Sanutura Project's multi-million-ounce mineral resource will underwrite a long life, multi-faceted CIL mine development and recent exploration success has added significant value to the project.
The company has established a second promising exploration play, the 100%-owned Koumandara Project, which covers an area of approximately 600km² in the Banfora Belt. Sarama considers this area highly prospective, and early-stage exploration has defined several corridors of gold anomalism that extend up to 40km in length.
The company also holds a significant interest in the 0.7 Moz Au(3) Karankasso Project JV which is proximal to the Sanutura Project and remains part of Sarama's regional portfolio mix.
Sarama's Board and management team have a proven track record in Africa and a strong history in the discovery and development of large-scale gold deposits. Sarama – a West African gold explorer and developer is well placed to build on its current success with a sound exploration and project development strategy across its property portfolio.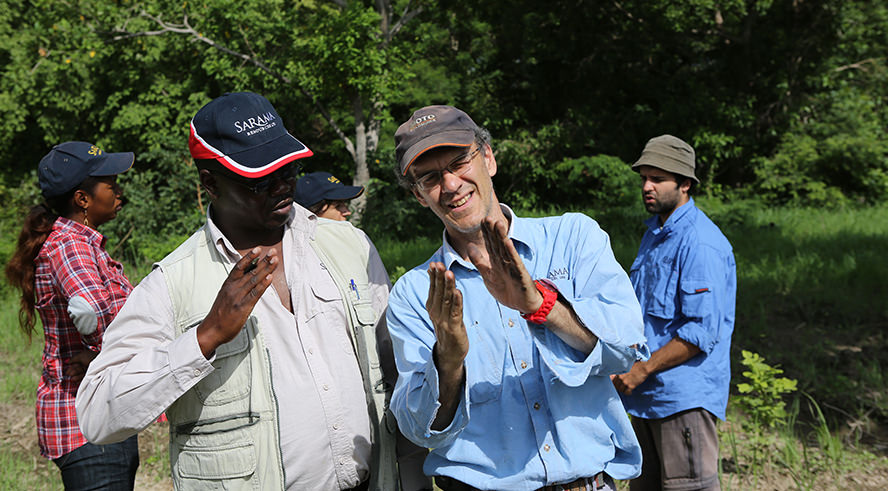 Footnotes
(1)Current mineral resource estimate for Sanutura Project – 9.4Mt @ 1.9g/t Au for 0.6Moz Au (Indicated) plus 52.8Mt @ 1.4g/t Au for 2.3Moz (Inferred), reported at cut-off grades ranging 0.2-1.6g/t Au, reflecting the mining methods and processing flowsheets assumed to assess the liklihood of the mineral resources to have reasonable prospects for eventual economic extraction.  The effective date of the Company's mineral resource estimate is November 16, 2021. For further information regarding the mineral resource estimate refer to the technical report titled "NI 43-101 Independent Technical Report Sanutura Project, South-West Burkina Faso", dated October 20, 2020 and prepared by Paul Schmiede, Adrian Shepherd and Fred Kock. Paul Schmiede is an employee of Sarama and Messers Shepherd and Kock are employees of Cube Consulting Pty Ltd and Orway Mineral Consultants Pty Ltd respectivley and are considered to be independent of Sarama. The technical report is available under Sarama's profile on SEDAR at www.sedar.com
(2) The current mineral resource estimate for the Karankasso Project of 12.74Mt @ 1.73g/t Au for 709koz Au (effective date of December 31, 2019) was disclosed on February 24, 2020 by Semafo Inc ("Semafo", since acquired by Endeavour Mining Corp. "Endeavour"). For further information regarding that mineral resource estimate, refer to the news release "Semafo: Bantou Project Inferred Resources Increase to 2.2Moz" dated February 24, 2020 and Semafo: Bantou Project NI43-101 Technical Report – Mineral Resource Estimate" dated April 3, 2020. The news release and technical report are available under Semafo's and Endeavour's profile on SEDAR at www.sedar.com. The mineral resource estimate was fully prepared by, or under the supervision of Semafo. Sarama has not independently verified Semafo's mineral resource estimate and takes no responsibility for its accuracy.
(3)The Tankoro Exploration Permit, which hosts the Tankoro Deposit, is undergoing a process with the Government of Burkina Faso where it is required it be re-issued as a new full-term exploration permit and the Company continues to work with the relevant government departments to progress the re-issue of the exploration permit. The Company remains optimistic of a satisfactory outcome, however timeframe for the permit re-issue is indeterminate.  Sarama has previously had a number of exploration permits re-issued, however there is no assurance of the timing and prospects for the re-issuance of the exploration permit.  As a matter of practice, the application for re-issue is typically granted providing work done by the holder is significant and the application is submitted in a timely manner, with both conditions being satisfied by Sarama.