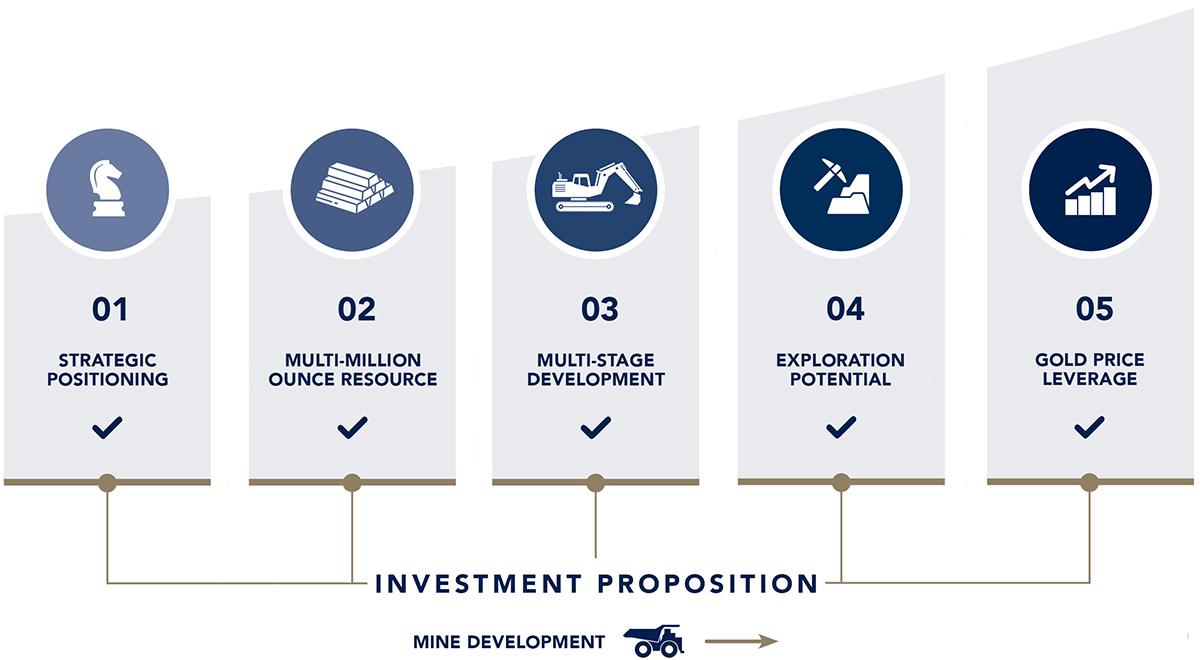 Sarama Resources has a top-tier Board and Management team with a solid African and industry pedigree that spans all facets of the business from exploration and discovery through to finance, development, and operations and includes companies such as Moto Goldmines and Redback Mining. The company's assets offer compelling value across multiple areas and provide substantial gold price optionality through the multi-million-ounce gold resource, near-term development potential, exploration portfolio and highly strategic landholding.
The Company is in the formative stages of transitioning from successful explorer to successful gold producer and it intends to play a key role in the consolidation of Burkina Faso's prolific southern Houndé Gold Belt, an area  which continues to yield major new multi-million ounce gold discoveries.
Sarama's development plans are underpinned by the Sanutura Project's multi-million-ounce mineral resource which includes a substantial amount of oxide and high-grade material. The Project's resource base has the capacity to support a multi-stage development where the oxide and free-milling material underwrites development and provides a substantial return with the balance of the resource and regional exploration success providing significant upside leverage.
Our large resource base provides significant leverage to a rising gold price, not only providing scope for increased operating margins but also a step change in the Resource to Reserve conversion rates. The Company's 100% owned Sanutura Project hosts the Tankoro Deposit which has a Mineral Resource(1) of 9.4Mt @ 1.9g/t Au for 0.6Moz Au (Ind) plus 43.6Mt @ 1.4g/t Au for 1.9Moz Au (Inf) plus the Bondi Deposit which is well drilled and has a historical estimate of resources of  0.28Moz (M&I) + 0.15Moz (Inf) Au(2)
Near-Term Development Potential
Sarama's Sanutura Project provides a near-term pathway to mine development which will utilise the significant oxide and free milling gold resource to underwrite and establish the project. The balance of the resource plus brownfields and greenfields exploration provide additional size, scale and life potential for the project as does scope for possible regional M&A opportunities. Pending work programs will determine optimal flowsheet, development phases and project size and the company anticipates commencing feasibility prep-work by the end of 2021.
Strategic Positioning and Regional Consolidation
The size, quality, and geological positioning of Sarama's land package is difficult to replicate in Burkina Faso and generally in West Africa. There is significant value to be derived from ongoing regional consolidation which now sees Endeavour Mining, Teranga Gold Corp and Sarama controlling large areas of the southern Houndé Gold Belt. Sarama's project area has clear synergies with Endeavour Mining's Bantou Nord deposit which is situated 5km to the west of Sarama's 2.5Moz Sanutura Project and also Teranga Gold Corp's Golden Hill Project which joins the northern portion of Sarama's Sanutura Project area. Sarama's regional footprint is further enhanced by the JV it shares with Endeavour Mining on the 750km² Karankasso Project adjacent to the Company's 100% owned Sanutura Project. The project hosts a 700koz(3) gold resource and recent drilling includes [21m @ 15g/t gold], Karankasso is reported as part of Endeavour Mining's wider Bantou Project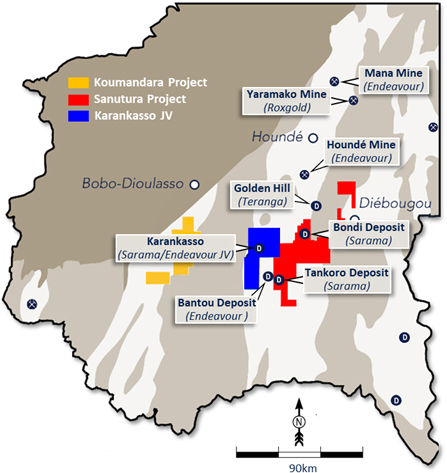 Sarama's 100% owned Sanutura and Koumandara Projects cover approximately 2,000km² of highly prospective and geologically proven greenstone terrane. The southern Sanutura Project area covers +1,400km² of highly prospective greenstone terrane. This part of the belt continues to yield major new plus-million ounce gold discoveries including Teranga Gold Corp's Golden Hill and Endeavour Mining's Kari Pump and Bantou Nord deposits. Koumandara Project (100% Sarama) covers 600km², is situated in the neighbouring Banfora belt and is analogous to the southern Houndé Gold belt situated 40km to the east. Three gold corridors up to 40km in length have been identified and reconnaissance work has delivered high grade gold-in-soil results plus high-grade auger, air-core and RC drilling results over wide intervals
DOWNLOAD LATEST
INVESTOR PRESENTATION
Download
Footnotes
(1) Current mineral resource estimate – 9.4Mt @ 1.9g/t Au for 0.6Moz Au (indicated) plus 43.6Mt @ 1.4g/t Au for 1.9Moz (inferred), reported at cut-off grades ranging 0.2-1.6g/t Au, reflecting the mining methods and processing flowsheets assumed to assess the likelihood of the mineral resources to have reasonable prospects for eventual economic extraction. The effective date of the Company's inferred mineral resource estimate is September 8, 2020. Scientific or technical information relating to the preparation of the Company's mineral resource estimate for the Tankoro Deposit within the Sanutura Project is based on information compiled or approved by Adrian Shepherd. A technical report will be available under the Company's profile on SEDAR at www.sedar.com
(2) Bondi Deposit – 4.1Mt @ 2.1g/t Au for 282,000oz Au (measured and indicated) and 2.5Mt @ 1.8g/t Au for 149,700oz Au (inferred), reported at a 0.5 g/t Au cut-off.
i. The historical estimate of the Bondi Deposit reflects a mineral resource estimate compiled by Orezone Gold Corporation ("Orezone") which has an effective date of February 20, 2009.  The historical estimate is contained in a technical report titled "Technical Report on the Mineral Resource of the Bondigui Gold Project", dated date of February 20, 2009 and prepared by Yves Buro (the "Bondi Technical Report"). Yves Buro is an employee of Met-Chem Canada Inc and is considered to be independent of Orezone and Sarama. The technical report is available under Orezone's profile on SEDAR at www.sedar.com.
ii. Sarama believes that the historical estimate is relevant to investors' understanding of the property, as it reflects the most recent technical work undertaken in respect of the Bondi Deposit.
iii. The historical estimate was informed by 886 drillholes, assayed for gold by cyanidation methods, were used to interpret mineralised envelopes and geological zones over the area of the historical estimate.  Gold grade interpolation was undertaken using ID² methodology based on input parameters derived from geostatistical and geological analyses assessments.  Field measurements and geological logging of drillholes were used to determine weathering boundaries and bulk densities for modelled blocks.
iv. The historical estimate uses the mineral resource reporting categories required under National Instrument 43-101.
v. No more recent estimates of the mineral resource or other data are available.
vi. Sarama is currently undertaking the necessary verification work in the field and on the desktop that may support the future reclassification of the historical estimate to a mineral resource.
vii. A qualified person engaged by Sarama has not undertaken sufficient work to verify the historical estimate as a current mineral resource and Sarama is therefore not treating the historical estimate as a current mineral resource.
(3) The current mineral resource estimate for the Karankasso Project of 12.74Mt @ 1.73g/t Au for 709koz Au (effective date of December 31, 2019) was disclosed on February 24, 2020 by Semafo Inc ("Semafo", since acquired by Endeavour Mining Corp. "Endeavour"). For further information regarding that mineral resource estimate, refer to the news release "Semafo: Bantou Project Inferred Resources Increase to 2.2Moz" dated February 24, 2020 and Semafo: Bantou Project NI43-101 Technical Report – Mineral Resource Estimate" dated April 3, 2020. The news release and technical report are available under Semafo's and Endeavour's profile on SEDAR at www.sedar.com. The mineral resource estimate was fully prepared by, or under the supervision of Semafo. Sarama has not independently verified Semafo's mineral resource estimate and takes no responsibility for its accuracy.
(4) The Djarkadougou Exploration Permit, which hosts the Bondi Deposit, is going through a process with the government of Burkina Faso where it is required it be re-issued as a new full-term exploration permit. The Company is in discussion with senior government officials regarding certain impediments to the re-issue of the Exploration Permit and anticipates these discussions will be completed in due course, though there can be no assurance that the process will be successfully completed on a timely basis, or at all.